The original Beerenburg (do note the spelling with two "e" letters in the first syllable) was made in the mid-18th century with a secret mixture of spices of the Amsterdam spice merchant Hendrik Beerenburg, to whom it owes its name. Hendrik had a shop at the Amsterdam Stromarkt near the Haarlemmersluis.
Possibly dozens of different herbs are used for Beerenburg production, including sweet flag, centaury, liquorice, sandalwood, gentian root, laurel and juniper berry. Soon other Beerenburg varieties emerged, each with its own recipe. These were, however, not allowed to use the name Beerenburg, which is why there are variations on the spelling, such as Berenburg, Berenboarch and Berenburger.
Despite the Amsterdam (North-Holland) origin of Beerenburg, the drink became most popular in Friesland, Groningen and Drenthe.
Beerenburg (Frisian: Bearenburch) is a Dutch drink, made by alllowing specific herbs to soak in gin (a.k.a. geneva). The process can be compared to making a cup of tea. The taste depends entirely on the mixture of herbs, the extent of time the herbs are allowed to soak, and whether or not the mixture is replaced at any time. With Sonnema Berenburg (with one "e"), the herbs are allowed to soak for 24 hours. With Plantinga Beerenburg this process takes 3 times 12 days, and every time the herbs are renewed completely. With the latter, the taste is influenced a lot by sweet flag.
Plantinga Beerenburg was produced in Bolsward from 1870 until after the sale of the Plantiac brand to UTO in 1972. I witnessed the production myself during the First Plantiac Pilgrimage to the Stoombootkade in 1991. Production was stopped in 2001. In 2008 the idea to re-introduce Plantinga Beerenburg was hatched. The idea came to fruition in 2009. Due to "Plantinga" being a trademark, however, the reborn beverage had to be named something else. It became "Boalsert 'KP' Beerenburg" (where 'KP' stood for Klaas Plantinga, and was the local old name for this much loved drink). Beerenburg has nothing to do with Plantiac, definitely not when it comes to the taste.
These days, Boalsert KP Beerenburg is produced at a Herman Jansen location, distillery "De Tweelingh" in Schiedam. Between 1200 and 2400 one-litre bottles are produced annually, distributed to a private group of 3 Beerenburg afficionados - Johan van der Weide, Simon Hottentot and Jan Dijkstra. Are you interested in purchasing it? Liquor store Jumbo Kooistra and Us Heit in Bolsward are your best bets. if you want to order it per case, it is best to contact the afficionados direct at KP@bolswarddigitaal.nl. At the moment, they are thinking of introducing smaller bottles next to the 1 litre ones.
Some lesser known different kinds of Beerenburg made by Plantinga were Boeren Beerenburg ("Farmers' Beerenburg"), Friesche Beerenburg ("Frisian Beerenburg") and 34 Beerenburg (so called because it contained 34% of alcohol as opposed to the regular 32%). These seem to have been products that were available for a shorter time, and the Boeren Beerenburg in particular was said to have had a smoother taste. It should be noticed that even the beverage known as just "Plantinga Beerenburg" (and "Boalsert KP Beerenburg" these days) has throughout its history a differing alcohol percentage, varying from 32% tot 34%.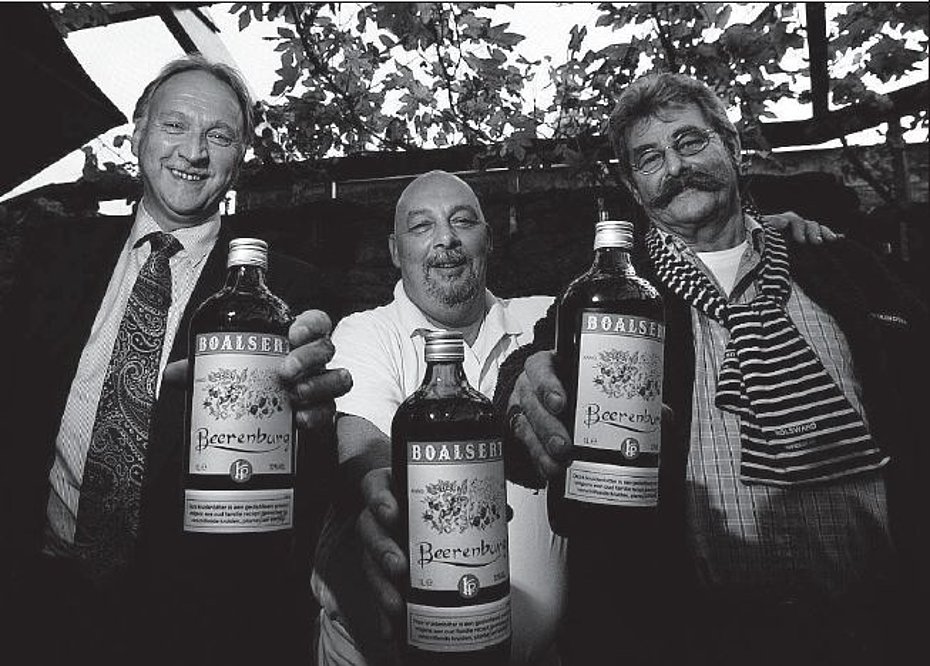 The Beerenburg afficionados who tried to bring back the Plantinga Beerenburg brand after its eight years' absence, and succeeded in doing so. Left ro right: Jan Dijkstra, Simon Hottentot and Johan van der Weide.
In 2009, Beerenburg was at the shared fifth spot with Dutch brandy (Vieux) rated by popularity, both with a market share of 5,9%. In 2011 it had gone to the sixth spot with a market share of 5,7% (still more popular than Dutch brandy which only had a share of 5,4% then). A quantity of 36.698 hectolitres of all various Beerenburg types is produced annually (source: spirits.nl).